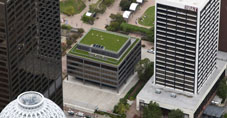 Two Johns Manville energy-generating and saving asphalt roofing projects were in the 2013 third annual Quality Asphalt Roofing Case Study (QARC) competition held by the Asphalt Roofing Manufacturers Association (ARMA).

American Roofing & Metal, of Louisville, Kentucky, received the Bronze award for its American Life and Accident Insurance Company project – a sustainable two-ply JM modified bitumen system, incorporating the company's glass matt nonwovens, topped with a vegetative green roof.

The system was chosen due to its durability, watertight properties and the ability to include a leak detection feature over the JM cover board. The result is the largest green roof in Kentucky, which it is calculated will cut the building's heating and cooling costs by a minimum of 20%.

McEnany Roofing and Contracting, of Tampa, Florida, also received an honourable mention in the competition for its Saint Petersburg College of Natural Science and Math Building project – a roof integrating a hybrid JM SBS/BUR system with a JM thin-film photovoltaic system. The project successfully converted the roof of the LEED Gold-certified building into an energy-generating asset for the campus.

"The projects highlighted in the QARC case study competition reinforce the Johns Manville's commitment to making buildings more energy-efficient," said Katherine Domenico, JM product manager and delegate to ARMA. "The benefits of energy efficiency within commercial structures are immeasurable, and we will keep our focus on offering innovative, energy-efficient solutions to our customers."