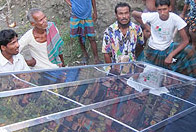 Galaxy, the patented viscose product of Germany's Kelheim Fibres which is the global number one for tampons, has found a completely new and different application – in a direct solar desalination panel.

Carocell, made by the Australian company F Cubed, is used for the cleaning and the desalination of water and designed to provide access to clean drinking water on a global scale. Almost one billion people have no safe drinking water supply which causes a death rate of 10,000 people per day due to water borne diseases.
Carocell is a very simple potential solution for this huge social problem. It can easily be positioned almost anywhere and the polluted water fed into it by gravity, pressure or a solar pump. Following the natural water cycle of evaporation and condensation, an average of 15 litres per day of pure water is produced – enough to meet the needs of a single family – and up to 25 litres and more can be produced on hot summer days. Only solar energy is used and there is no pollution of the environment with chemicals or greenhouse gases.

Carocell is a modular unit and can therefore operate as a single panel or as multi-panels for higher water production for towns and commercial applications such as treating industrial or mining waste water.

In order to keep the cost of the panels as low as possible while maintaining high levels of efficiency, the developers paid particular attention to the design and the materials used in the panel and the nonwoven inside it is made of Galaxy fibres, characterised by excellent liquid absorption and distribution capacity. In a comparative test on different nonwoven fabrics carried out by an independent institute, the fibre, with its typical trilobal cross-section delivered the best distribution of water in the nonwoven. At the same time, its high surface area improved the evaporation of the water. Another benefit is that Kelheim Fibres delivers the fibres in spun-dyed form and additional dyeing, which would be costly and laborious considering the small amount of fibres needed, is not necessary.

The Carocell units are already being exported to 23 countries with a growing demand from governments, NGO's and corporations.