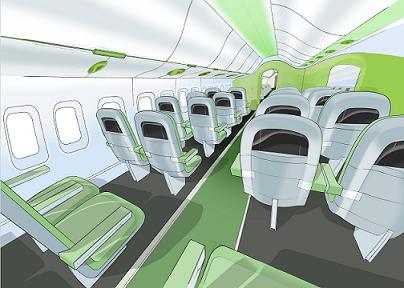 At the recent Aircraft Interiors Show, in Pittsfield, MA, USA, Sabic Innovative Plastics and National Nonwovens showcased the jointly-developed Ultra-Protechtor fire blocker brand.

In replacing aramid with Sabic's Ultem polyetherimide (PEI) fibre, National has come up with a fire blocker that can be used in all aircraft seating dress covers – whether with leather, synthetic leather or woven fabrics.

Ultem fibre delivers high heat resistance together with high flow, high ductility and strength to meet tough environmental conditions. The material – which meets the requirements of Federal Aviation Administration (FAA) FAR 25.853 regulations – features inherent flame retardance without the need for additives or fillers that can give off volatile organic compounds (VOCs).

National Nonwovens made key property improvements to Ultra-Protechtor, including higher limited oxygen index (LOI) and lower heat release for safety, and low specific gravity and reduced moisture absorption for lighter weight solutions – which continues to be a main focus to the aerospace industry.

"Whether in the form of a resin, fibre or foam, aerospace grades of Ultem have become a clear solution of choice for the most demanding applications," said David Wildgoose, general manager of engineering resins at Sabic Innovative Plastics. "By moving to Ultem National Nonwovens has created a new fire blocker technology that meets virtually all OEM seating specifications, sets a higher standard for flame-smoke-toxicity properties and ultimately will help to provide a safer travel environment in commercial and business aircraft worldwide."