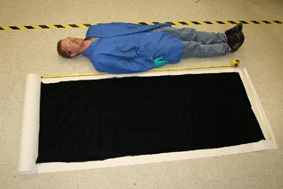 Nanocomp Technologies has completed the first stage of its expansion for the commercial production of nonwovens and other products based on high performance carbon nanotubes (CNTs).

At its new headquarters in Marrimack, New Hampshire, USA, the company will make strong and conductive CNT-based products for customers including the US Department of Defense, NASA, and a growing number of major commercial corporations.

DuPont entered into a financial and strategic development relationship with Nanocomp earlier this year and the Department of Defense has designated its materials as 'critical for national defence'

"This first-in-the nation advanced nanotube manufacturing facility enables us to meet accelerating market demand for high performance CNT-based sheets, tape, and conductor products for military and commercial industrial markets," said Peter Antoinette, president and CEO of Nanocomp Technologies.

Over the next year, the company intends to increase its employment base through the addition of over 50 manufacturing, sales, marketing and technical positions at both the Merrimack headquarters and its technology research centre in Concord, New Hampshire.

With the availability of dramatically increased manufacturing capacity, Nanocomp's CNT products will be able to address an unprecedented array of application categories including:
• Structural materials. higher performance armour protection for military and police forces – structural components that reduce weight and vibration in aerospace, automotive and consumer electronics applications.
• Electrically conductive materials. Lightweight replacement for copper wires, shielding for electro-magnetic interference (EMI) and non-metallic electrodes for lithium and other batteries.
• Thermal management materials. Heaters for aerospace and automotive, thermal transfer solutions for space and aviation, de-icing for aerospace and and fire retardant materials.
• Multi-functional materials. Combined solutions such as: a CNT-based plane wing with an exterior layer that de-ices and manages LSP and a smart phone case that is strong and light that also contains an embedded antenna simultaneously serving as a thermal/electrical backplane as well as an EMI shield.