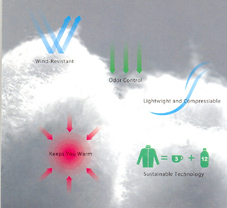 S.Café recycled polyester products produced by Singtex of Taiwan make use of extruded waste coffee grounds to add functions such as fast drying, odour control and UV protection to fabrics.

Now the company is introducing them as nonwovens in a new inuslation material called Eco2sy aimed at the winter sports market.

Eco2sy is said to perform as well as natural down feathers and its special construction is designed to keep the body warm during cold temperatures. It is lightweight and very compressible, with the S.Café technology helping to absorb body odours.

In Taiwan, Singtex now collects all of the waste coffee grounds from Starbucks and 7/11 concessions in the country to combine in the extrusion process. A full jacket insulation system is made from around 12 PET bottles and the grounds from three cups of coffee.