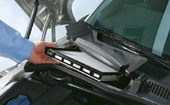 As a major supplier to the automotive industry in the electromobility field, Freudenberg reports considerable progress in the development of separators for lithium ion batteries.
Together with recharging infrastructure, battery technology will be one of the decisive factors in the success of electric cars.

Being a world market leader in sealing and vibration control technology, and a specialist in filters and mechatronic products, as well as the world's largest producer of nonwovens, Freudenberg intends to become a leading component producer for this highly promising energy storage technology.
Log in or subscribe to see this content