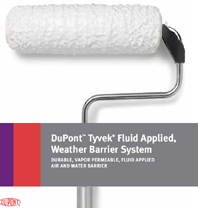 DuPont invented the building wrap category more than 30 years ago and the family of DuPont Tyvek nonwoven air and water weather barrier products has helped create thousands of sustainable buildings around the world that cost less to operate and are easier to maintain.

Now the company has introduced a system of fluid-applied products that work together to provide seamless protection for the building envelope.

The Tyvek Fluid Applied Weather Barrier System delivers the same performance as Tyvek CommercialWrap – with the added convenience of fast, sprayed or pressure rolled application.

The liquid web system is said to work especially well on concrete masonry and gypsum sheathing, providing an ideal combination of air and water holdout, with the highest vapour permeability in the industry at 25 mils. Protecting buildings from water accumulation, which can lead to mould and mildew, also helps reduce energy use and create a healthier indoor air environment.

Clean-up can be via mineral spirits, citrus-based cleaners or gel-based paint stripper.

Each of the products in this integrated weather barrier system features low VOCs.