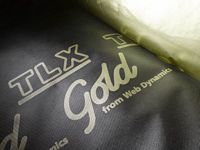 TLX Gold – a hybrid structure of reflective coated cellulose film, polyester wadding, metallised nonwovens and a roofing underlay – was featured in the Innovation Zone at INSITE 11, held in Watford, UK.
The event, which took place on October 5-6, was part of the Modern Built Environment KTN programme which aims to showcase exemplary technologies which have the potential to transform the UK's current built environment.

TLX Gold, which achieved ETA (European Technical Approval) earlier this year, is billed as the world's only combined breather membrane and multi-foil insulation. It reduces heat loss and air leakage through the building fabric while enabling a building to breathe. The product can be installed as a single layer over existing insulation and delivers insulation improvements to buildings where previous upgrades were impractical.
Log in or subscribe to see this content