Purocel EcoDry for Sustainable Hygiene Products:
Purocel EcoDry is a biodegradable & compostable Viscose fibre with engineered hydrophobicity specially crafted for sustainable absorbent hygiene products (AHPs). It helps create super soft nonwovens for top sheet application in AHPs like sanitary pads that keep the user skin dry at the same time allowing fluids to get transferred to the core of AHPs. The fibre is fully sustainable in nature making it possible to have eco-friendly hygiene products meeting required performance.
Viscose Staple Fibre by nature is a hydrophilic fibre. Our innovation Purocel EcoDry is a specialty Viscose staple fibre which has been carefully designed with just optimum hydrophobicity to get the desired properties in the top sheet application of AHPs like sanitary pads or panty liners. Purocel EcoDry Fibre provides perfect balance between the two most critical properties required in the absorbent hygiene product like rate of absorption as well as wetback or rewet.
Purocel EcoDry Viscose fibre provides the perfect combination of the biodegradability & compostability of natural fibres as well a performance of synthetic plastic/oil based fibres as shown below.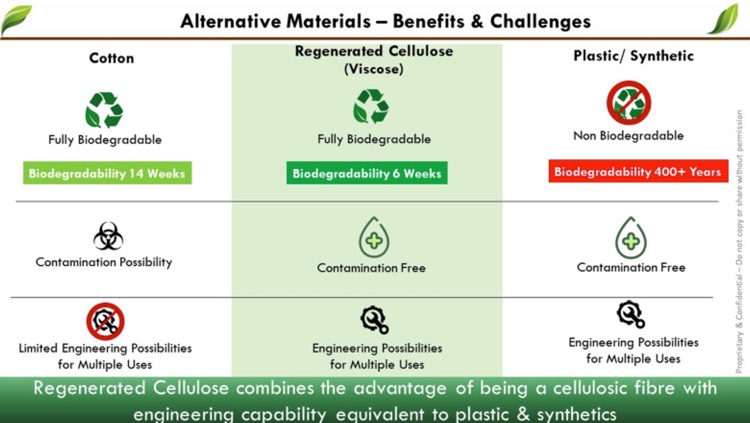 Advantages of Viscose over Plastic/Synthetic and Cotton for Absorbent Hygiene Products (AHPs)
Purocel Eco for Building Traceable Sustainable Products:
Presenting Purocel Eco, an eco-enhanced viscose fibre with built-in molecular tracer for 100% transparency. End consumers can now trace the origin and journey of the end products like wipes with a simple QR code scan, so they can be assured that the products are sourced sustainably.
Purocel Eco is world's first to provide such feature in Nonwoven industry. It has been infused with a unique propriety tracer which can be identified at any stage like fibre, fabric or end product across the nonwoven value chain.
Apart from traceability, Purocel Eco offers host of sustainability credentials as below:
Purocel Eco is sourced from FSC® certified sustainable forests, thus conserving biodiversity, saving endangered forests and increasing overall green cover
Purocel Eco is produced in an EU BAT compliant manufacturing facility meeting which meets the most stringent European emission norms for Viscose fibres
Purocel Eco has been manufactured in a manufacturing facility having best-in-class Higg FEM (3.0) index of 93% as of 2019
Purocel Eco promises 65% lower greenhouse gas emissions, 75% lower water emissions, uses more than 50% of renewable energy source and follows closed loop production process wherein more than 90% Sulfur used in the process is recovered & recycled making it even more sustainable
Note: Comparing against generic Viscose fibres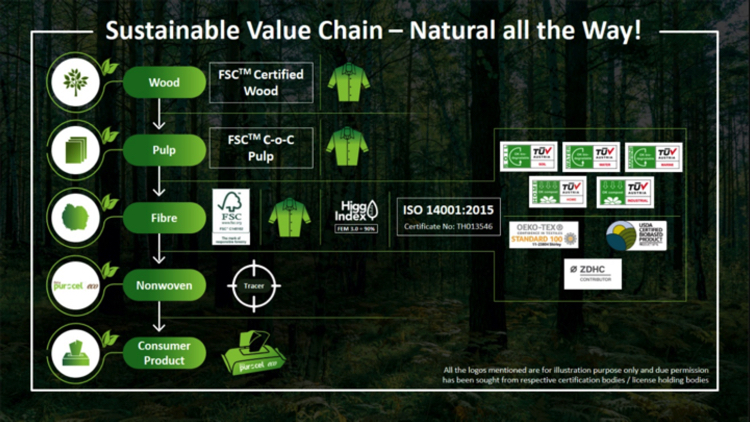 Purocel Plus Fibres for 100% Viscose-based Wipes:
Presenting specialized fibres for sustainable cellulosic wipes – Compliant with EU single-use plastics directive
Specially crafted viscose fibres to enable the switch from plastic based fibres to sustainable 100% cellulosic fibres while maintaining good process-ability and wipe properties:
EU SUPd Compliant
Fully Biodegradable & Compostable (Certified by TUV Austria)
Enhanced process-ability
Improved wiping performance
We've embarked on a journey towards 100% Viscose-based wipes and our innovative fibre offerings are intended to fast-track this journey for a better tomorrow!
For more information:
This email address is being protected from spambots. You need JavaScript enabled to view it.