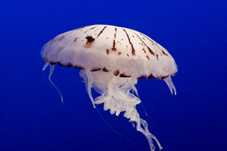 An absorbent nonwoven made from jellyfish flesh?

Sounds unlikely, but this is being developed by an Israeli nanotechnology start-up called Cine'al Ltd., based on research conducted by Dr Shachar Richter and his team at Tel Aviv University.

Cine'al's product harnesses the ability of jellyfish to absorb high volumes of liquid without deteriorating. By breaking down jellyfish flesh and adding antibacterial nanoparticles, the researchers created a material called Hydromash, which is envisaged as an effective absorbent performer in hygienic disposables.

Jellyfish populations worldwide have been exploding in recent years as fishing regimes have cut down on their predators and competition for food, and they are expected to become even more populous as the oceans warm due to climate change.
"There are too many jellyfish in the sea, and too many Pampers in landfills," Cine'al's president, Ofer Du-Nour told the Times of Israel. "Cine'al may have the ultimate answer to both those issues."
Trying to market a product based on a slimy sea creature with a very painful sting, however, might just be problematic – even if they are biodegradable.
Du-Nour, however, believes that most consumers have no idea what ingredients are used in these products anyway and that countries such as Israel may eventually actually mandate the use of jellyfish in this way.
"The tourist industries of many countries are harmed by jellyfish infestations and harvesting them would be a profitable way to solve the problem," he said.