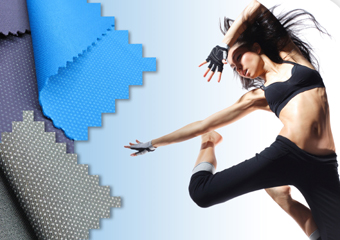 A lightweight bi-elastic interlining available in 16 colours for transparent fabrics for womenswear is being introduced by Freudenberg and Vilene International.

"It was the current trend towards more freedom of movement in apparel which motivated us to create lighter, bi-elastic materials," Freudenberg and Vilene market segment manager Ronnie Lee.

Freudenberg's interlining portfolio also includes virtually all inner components required for menswear – fusible and sew-in interlinings, tailoring tapes, pre-formed components, felts and waddings based predominantly on nonwovens. These are only some examples of the extended range.

For light and soft tailored garments, Freudenberg offers the Light Touch range of Marelli & Berta's ultra-light polyester canvases for the creation of breathable, eco-friendly chestpieces for tailored jackets, without the risk of hair migration, ideal.

Special adhesives also allow for easier processing and PinBond adhesives can be printed directly onto fabrics, eliminating the time and effort required for the transfer process.

A new PinBond Direct Coat production plant is now located at the Freudenberg and Vilene factory in Nantong, China. According to Ronnie Lee,

"The Direct Coat system is a cost effective and efficient way for large scale garment manufactures to use our PinBond products," said Lee. "PinBond bonds fabrics together while maintaining their original softness, stretch and recovery, and breathability. These characteristics make it ideal for sportswear and intimate apparel."

For improved performance through wet processing treatments on sensitive fabrics the company has developed EE adhesives on a variety of base materials. Before a garment has its final form, it often has to go through up to 20 post processing steps. With the new EE adhesives, the interlinings offer excellent performance, even when fused at mild temperatures or dyed using extremely high temperature conditions.

Beyond a wide range of interlining products, Freudenberg and Vilene offers an extended service portfolio to its customers, providing not only product recommendations, but also technical insight and troubleshooting related to interlining application and garment construction.

Having one contact person at Freudenberg for all inner components of garments, customers effectively have a one-stop shop for customized solutions. Textile compliance, including interlining, is of critical importance to ensure the safety of garment workers and end-consumers alike. All Vilene fusible interlinings are certified to meet the Oeko-Tex Standard 100, Class I or Class II. Product certifications are renewed on a yearly basis.