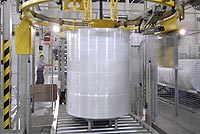 Pegas Nonwovens has halted a test run at its new factory in Egypt as a result of the political turmoil in the country, according to Reuters.

A Pegas spokesman told the news service the company has not seen any material damage and the security situation around the plant is relatively calm, but activity on the line has been halted to secure maximum security for employees.

Pegas is one of several nonwovens and raw materials suppliers, including Bostik, Gulsan and RKW, who have commited to investment in Egypt, in part prompted by the decision of Procter & Gamble to site a new dedicated Pampers diaper plant in the country.

P&G already employs some 1,500 people in Egypt at its existing Pampers plant and a second manufacturing soap and detergents.

It closed these as well as its Egyptian office in January 2011 as a result of the turmoil in the country at that time, but during 2012 announced it was proceeding with the new plant, scheduled to open in 2020.