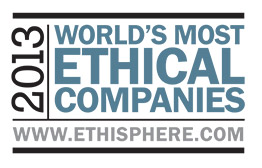 Hygienic disposables companies Kimberly-Clark and SCA make the list of the 2013 World's Most Ethical Companies compiled by the Ethisphere Institute, a leading international think-tank dedicated to the creation, advancement and sharing of best practices in business ethics, corporate social responsibility, anti-corruption and sustainability.

Also featured are HB Fuller, a key supplier of adhesives to the nonwovens industry, automotive interiors major Johnson Controls and Coloplast, the Danish-headquartered manufacturer of medical disposables.

The designation recognises companies deemed to truly go beyond making statements about doing business 'ethically' and translate those words into action. They not only promote ethical business standards and practices internally, but exceed legal compliance minimums and shape future industry standards by introducing best practices today.