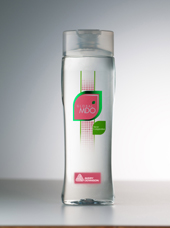 At this year's Labelexpo Americas, Avery Dennison Corporation introduced its new Bottle-to-Bottle (B2B) film portfolio aimed at addressing the easy removal of labels for PET reclamation programmes.

The B2B range is built on clear or white BOPP film facestock anchored by SR3010, a switchable adhesive which adheres to a PET bottle until the cohesive bond is broken at the recycling plant. This allows the facestock and adhesive to cleanly separate from the PET flake to deliver pure PET flakes, conserve virgin PET resources and reduce landfill.

"We applaud Avery Dennison and its customers for addressing a critical impediment to the efficient recycling of PET containers," said Mike Schedler, director of technology at the National Association for Pet Container Resources (NAPCOR). "The popularity of pressure-sensitive labels makes it imperative that they be successfully removed as part of the standard PET reclamation process to increase their recyclability. We hope other label manufacturers and brand owners follow Avery Dennison's lead."

"This will help recyclers address the more than 2 billion PET containers that do not enter the recycling stream each year," added Laura Clark, global beverage marketing director at Avery Dennison Label and Packaging Materials. "We are working with a number of the beverage industry leaders to meet their aggressive standards for PET upcycling. This certified portfolio will dramatically improves PET recyclability."

The film and adhesive are considerably less dense than the PET flakes which are left over when the residue from the film and adhesive are removed from the container fragments This allows the flakes to sink to the bottom of the tank while the label flakes rise to the top. With the materials automatically separated, it's easy for the label to be removed from the tank and permit the PET flakes to move on to the next step of being recycled. Manufacturers can use the recycled PET flakes to produce packaging films and shells. The B2B portfolio has been certified to work in the NAPCOR/APR protocols for PET recycling.

In addition, the company has introduced its Prime Film range of BOPP and machine direction oriented (MDO) films anchored with a new, proprietary S7000 adhesive that delivers excellent clarity, conformability for container squeeze, and dispensing stiffness for high-speed converting and dispensing.

The range consists of clear, white and metalized facestocks on PET liners. In particular, the new semi-conformable Global MDO constructions enhance product shelf appeal and perform without wrinkles or peeling on many squeezable containers while, producing 40% less solid waste and requiring 37% less energy.

For more rigid containers, new BOPP products have been designed with S7000 to offer excellent performance in both converting and dispensing – even as materials become thinner. The S7000 adhesive delivers 50% less ooze and best-in-class wet-out performance across the entire portfolio.

"Thin is not simple," said Tina Hannan, film product line director for Avery Dennison Label and Packaging Materials-North America. "Thinner constructions typically have trade-offs in ooze, dispensing and wet-out. However, with our focus on the Science of Thin, we have created a portfolio that reduces the environmental impact while improving performance."

The Prime Film range provides significant improvements in sustainable impact compared to similar films, driven by 31% less material weight and the use of a thinner PET liner.